Application for Student Exchange Programme @IISc Bengaluru is open!!
Dates    1-12 February 2024
Please apply via Google Link (QR Code is on the poster below)
Deadline: 15th October 2023
Eligibility
Japanese students (21 years and above)
Assistance 
From IISc: the accommodation cost, field visits, and airport commute.
From IJL: Partial assistance for international travel of selected students, visa fees, food, and other expenses.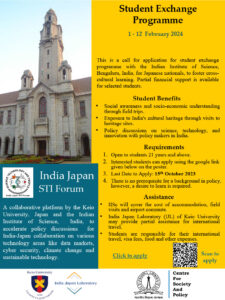 India Japan STI Forum
Created by India Japan Laboratory of Keio University and Centre for Society and Policy of Indian Institute of Science (IISc), Bengaluru, we aim to accelerate policy discussions for India-Japan collaboration on various technology areas such as data markets, cyber security, climate change, and sustainable technology.