On June 27, 2021, The Prime Minister of India, Shri Narendra Modi, inaugurated a Zen Garden and Kaizen Academy at AMA, Ahmedabad via video conference. Towards their dedication for modernizing the India-Japan relationship, the Prime Minister thanked the leaders of Hyōgo Prefecture, and also praised the efforts of Indo-Japan Friendship Association of Gujarat, India.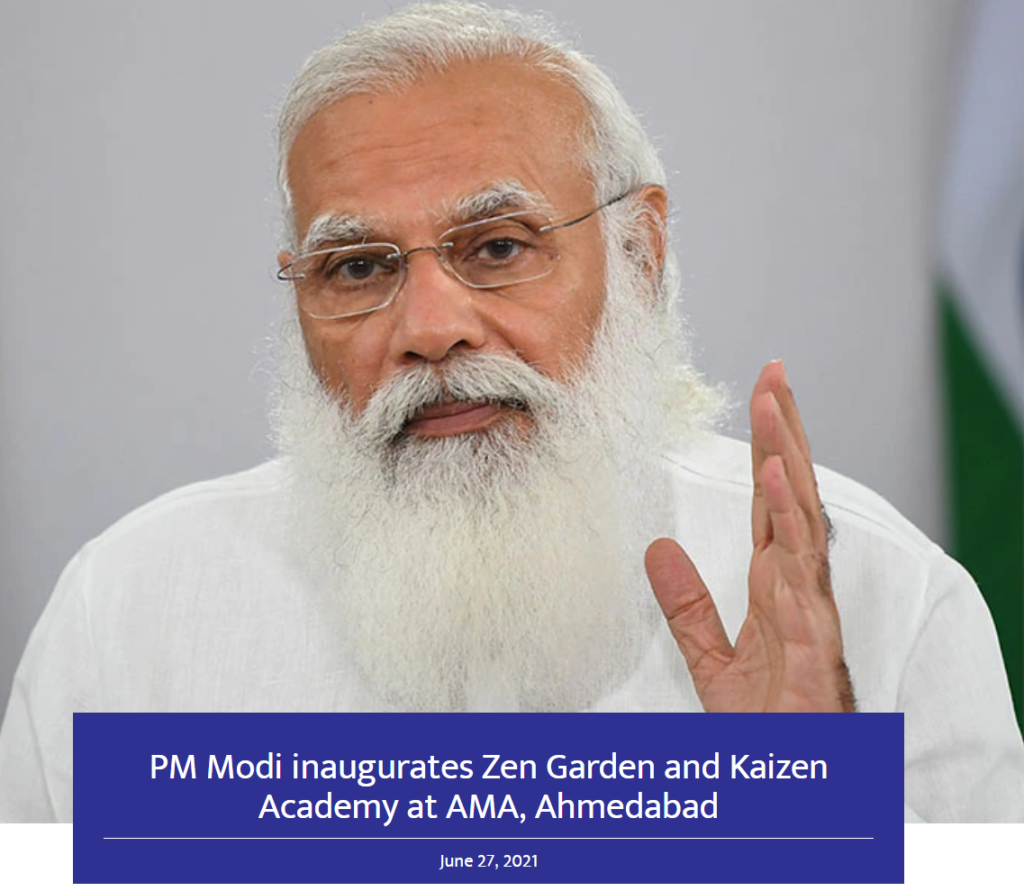 The key highlights of PM Modi's inaugural speech are as highlighted below:
The 'Zen' in Japan is similar to 'Dhyan' in India, and the inner peace along with outer progress and growth is also the hallmark of the two cultures. The newly inaugurated Zen garden will therefore provide the Japanese experience of peace, poise and simplicity to all Indians.
Taking due lessons from the Japanese concept of 'Kaizen', which emphasizes not only on 'improvement' but 'continuous improvement', many departments, institutions and schemes of the Central Government have for long been adopting this ideology. This has led to simplification of the processes, optimization of office spaces, and is having a positive impact on governance.
The Prime Minister also talked of Japan's enthusiastic participation in 'Vibrant Gujarat Summit' over the years. While more than 135 companies, ranging from automobile, banking to construction and pharma, have made Gujarat (India) their base, the Government of India is committed to a vision of creating a Mini-Japan in Gujarat.
Interestingly, special efforts have been made to improve golf facilities in Gujarat when, in an informal discussion, the Prime Minister realized that Japanese people love golf. Similarly, there is spread of Japanese restaurants and Japanese language in Gujarat. The Prime Minister also expressed a desire to create a model of schools in Gujarat based on Japanese school system.
In due consideration to the centuries old cultural relations between India and Japan and a common vision for the future, a special arrangement in form of Japan Plus has been made in The Prime Minister's Office.
In the backdrop of ongoing COVID-19 pandemic, the India-Japan friendship has become even more important for global stability and prosperity. PM Modi also called for further spread of Kaizen and Japanese work culture in India and more focus on business interaction between India and Japan.
Full speech: https://www.narendramodi.in/prime-minister-narendra-modi-inaugurates-zen-garden-and-kaizen-academy-at-ama-ahmedabad-555923